Link Roundup #57: 10 Things to Know This Week
Accelerate your personal finance knowledge with this regular feature on Ringgit Oh Ringgit – the Link Roundup! I promise you'll find these 10 links informational 🙂
Apparently, the rule of the internet states that XKCD has a comic strip for ANY topic. Here's the strip for Investing. I dedicate it to everyone who's trying to invest their money without trying to increase income, either through salary or side hustle.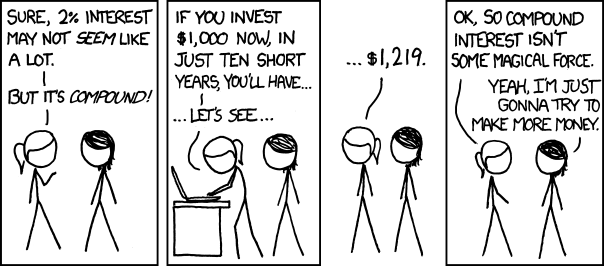 People with high EQs make an average of $29,000 per year more than people with low EQs.
3. I Made 8 Dinners For Two People On A $25 Budget (In NYC!) – Delish
I'm such a BIG FAN of June from Delish. Her grocery shopping/cooking style is similar to (and way more advanced than) mine: buy what's cheap or value for money, then figure out ways to cook them. My meals get increasingly more creative the longer I go without grocery run, and I enjoy figuring out what to do with the ingredients I have left.
Oh wow this article pissed me off so much lol. Among other things, I found out that:
Printer companies sell printers cheaply so they can hook you into buying expensive ink for years to come (this, most of us already know)
Printer companies purposely make off-brand inks incompatible with your printer, through firmware updates
Printer companies have reduced ink quantity in cartridges
Only about half of the ink reaches your printed copies
No wonder e-commerce sellers suggest switching to thermal printers. No ink replacement necessary. I leaned this from TikTok btw.
I'll be honest and say that I don't know what this will mean to the average person. So I asked Safdar Alam, the person who tweeted this, and he said:
Great Q. The potential weakening of the USD as a global currency MAY presage the weaking of global fiat money which in turn would increase the chance of a non fiat and non Riba currency coming forward.

This is my main hope 🙂

— Safdar Alam (@SafdarAlam) August 10, 2020
Good article from Mr-stingy on having bad days. It's very, very normal. Even for me, and I'm self-employed in my dream job.
My take: use the 5-to-1 rule; have 5 positives for every 1 negative. This rule is for long-term relationships, but can be applied to jobs too.
Not enough positives on the job? Create em. Still can't? You tried, completely fine to seek other opportunities.
Negotiation skills. Most of us want to be better at this, and not just for financial benefits, but also '(to conduct) negotiation on the home front — to coordinate childcare responsibilities while you and your partner work from home'.
What I love about this interview is the 'I/We ask' tip. It goes like:
When I am training people to ask for more, it goes like this: Here's what I'm requesting, and here's how we all benefit. So in other words, when you've spent time really stepping into the shoes of your manager, your CEO, your organization, and figuring out what they most need, you then are in a position to pitch your ask in a way that meets that need – the I/we is an extremely powerful tool.

It's just as powerful as it is collaborative. And it's an approach that works exceptionally well for women and not just pre-pandemic, but even amid this crisis and uncertainty.
Abundance mentality. Thinking of and proposing Win/win solutions.  Thanks so much for the tip, Prof <3 I also found out she's an executive coach for sensitive high-achievers?! Love it.
Sharing for the creativity here. How it works is: the streamers allow viewers to run videos (of their choosing) when they donate, all while they were sleeping. Sometimes they might wake up – naturally or because of the videos – but mostly they sleep while viewers watch.
It's not really 'just sleeping' as there are lots of prep work involved (setting up the bot, ensuring equipment quality, not to mention the effort behind growing the channel itself), but yeah, technically speaking, they make money while they slept.
After Unilever representatives in Sri Lanka saw Shenoy's post about Pond's White Beauty products, two of its executives in Sri Lanka told the magazine's publisher that she should either be fired or publish two pages in the magazine every six months describing how she used Pond's skin whitening creams and encouraging other women to use them as well.

Unilever was a major advertiser, and the publisher told her the magazine could go under if she didn't give in, Shenoy said, but she stood firm."Unilever then retracted every single brand advertising for the publication," said Shenoy. "It was a lot of money. They own a whole portfolio of brands."
Oh, the repercussions you get for reducing a product's profitability. Thus happened in Sri Lanka but make no mistake, whitening creams are big business here in Malaysia too, and they probably don't like all this 'be happy with your skin tone' messaging.
Solid tips and recommended read for all Malaysian freelancers out there. Bookmark this page, you'll probably visit it again later.
—
That's it for this round, catch you next time! Want to submit a link you thought was great? Reach out to me on FB or Twitter.
To read past link roundups, please click here.