Link Roundup #87: 10 Things to Know This Week
Excellent article that compiles many habits that may be derailing your financial plan right now. Of all the suggestions, I thought these were the most relevant (some are not applicable to Malaysians):
Buying things just because they're on sale
Engaging in microtransactions
Not keeping track of subscriptions
Constantly updating your wardrobe
Grocery shopping without a plan
Failing to pay bills on time
Buying aspirational clothes
Letting your mood dictate your shopping
Not making your own lunch or coffee
Going on sprees
Forgetting about peak hours
Tossing receipts (and not reviewing them, may even get charged extra)
We keep hearing how people in China record higher and higher sales during major shopping events like Singles Day. But some of them are just… tired.
I can relate. I, too, am exhausted of having items promoted to me, telling me I'll be a better version of myself with said item, implying that I'm currently not.
I follow Drew Binsky's channel for years now and am happy that he achieved his goal of visiting every country in the world!
Have always wondered how he pays for everything and curiosity answered through this article. The answer is: Youtube income ($20,000-40,000 a month), brand sponsorship ($15,000-20,000 per video – he deserves it, he uploads DAILY videos!!), merchandise and travel hacking course. Based on his latest updates, he's also working on adding a couple more streams of income: book and NFTs.
How he manages all these between travel and 23 employees is beyond me. I wonder what system he uses. Wow.
Many people struggle with mental health at different points in their life. Therapy is expensive, and not everyone can summon the willpower to exercise, so here's another method to manage mental health – through writing.
Personally, I practice journalling and free writing, and love it. Always feel better after a session of 'dumping it out' on paper.
Malaysian team, global audience! Jerry Low and team is behind WebHostingSecretRevealed, HostScore, and HideandSeek, which brings in 700,000 visitors per month(!!!) and $30k per month!
With every culture, there is a counter-culture. What's the counter-culture for online culture? Being offline and proud. And this article teaches you how to erase remnants of your digital footprint as well.
Are you feeling stagnant? Are things just too… monotonous?
It's not wrong to have a routine, but as they say, calm waters don't make a good sailor. Do something that improves your life, even if it's hard.
The 4 habits are:
Practice self-kindness
Learn to be grateful
Forgive others
Slow things down (exercise patience)
The trick is… to pause for 3-9 seconds during a negotiation.
In a series of studies in which pay negotiations were simulated in conversation, Jared Curhan, an associate professor of work and organization studies at the Massachusetts Institute of Technology, and his colleagues found that this extended but brief silence can facilitate a "shift from default, zero-sum thinking to a more reflective, deliberative mindset, which, in turn, is likely to lead to the recognition of golden opportunities," their paper concludes.

In other words, when one person pauses to think during the conversation, it can help them to see talks as more than a tug of war and move deliberations forward to a favorable outcome.
---
The highest-earning Myers-Briggs personality type? ENTJ at $60k annual income on average. The lowest? INFP at $34k annual income on average. The data is taken from a survey from over 72 thousand people, so I'd pay attention.
These are the personality types, average income advantage and the traits most correlated with income advantage.
And this is the percentage of each type earning $150k and above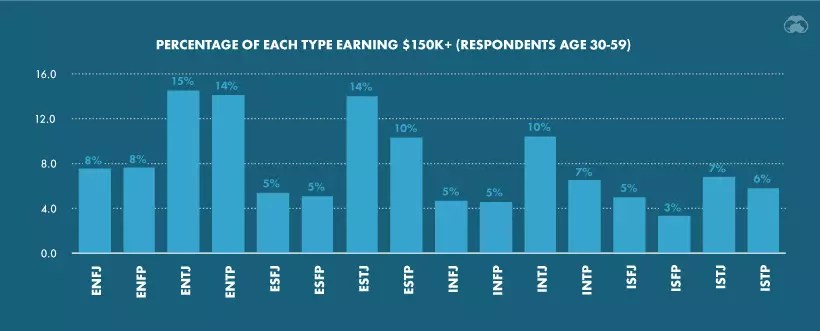 Regardless of your personality type, know this: you can still make big bucks if you use your natural inclination to your advantage. It's a matter of using your skillsets and tools well, and learning how to adapt to extrovert-centric world.