Cheap Insurance in Malaysia: What, Where and How to Get Them
Everyone wants cheap insurance in Malaysia. The good news is yes decent ones do exist, just under-marketed. In fact, it is possible that the lack of marketing and agents commission contribute to their low price, lol.
So if you are in a tough situation, and money is tight, then these insurance options are affordable and most importantly, better than nothing.
At a glance, the options are:
Perlindungan Tenang (life and general insurance; for B40, sole breadwinners and people with vulnerable dependents)
SOCSO Self-Employment Social Security Scheme (for self-employed and gig workers)
MDEC's eBerkat (various insurance; for B40 and MSMEs)
Online Critical Illness Protection (critical illness insurance; for everyone)
Let's go over each of them one by one. Before you scroll down, it is a good idea to think of the budget you have for insurance purposes. Have that number in your head – ie, RM25 per month, RM50 per month, max RM100 per month, whatever you can realistically afford. Depending on your budget and your needs, you can get multiple plans in this list all at once.
(If you can afford more than that, than consider normal insurance products which offer higher sum assured. See: 9 Things You MUST Know Before Buying Insurance in Malaysia article)
Note: I use the term insurance here even though some products offered are takaful. Lazy to type insurance/takaful, paham-paham je la.
#1 – Perlindungan Tenang
Perlindungan Tenang is the option you want if you're looking for dirt cheap insurance in Malaysia, specifically designed for the B40 community. The plans cost between RM1.xx to RM2x.xx per month.
Yes, from RM1 ish. Per month. So no excuse to not be protected, truly.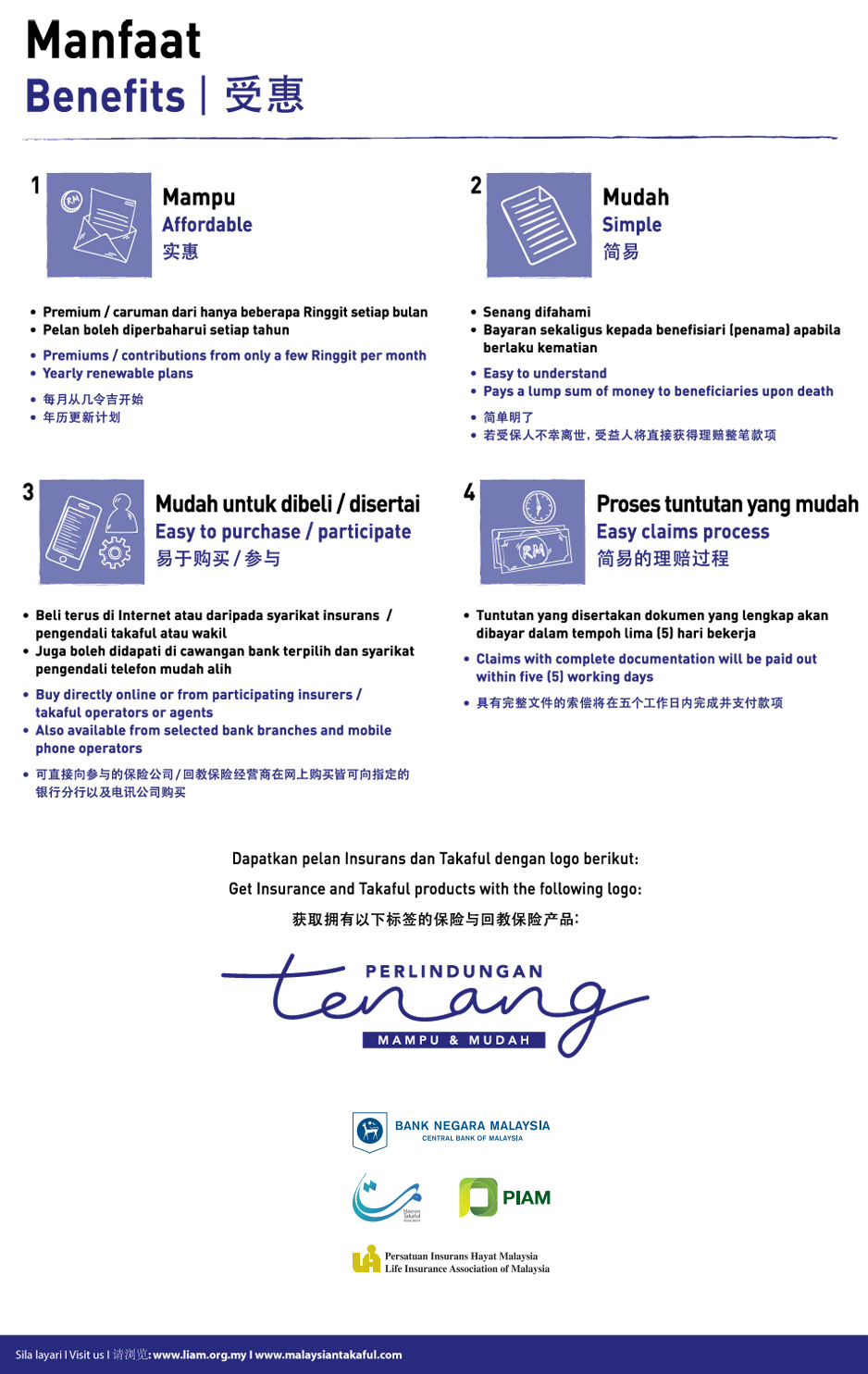 If you are completely uninsured and fit the demographic, now is a great time to get Perlindungan Tenang – the government announced in Budget 2021 that they will give out RM50 voucher for individuals eligible for Perlindungan Tenang, as well as stamp duty exemption of RM10 until 2025. (Note: I don't know if they have distributed the vouchers. If they haven't, don't wait, just apply and get yourself protected first)
Insurance products under Perlindungan Tenang fall under 3 categories: conventional, takaful and general. Click the links below to learn more and apply for the products:
1 – Life insurance from LIAM (Life Insurance Association of Malaysia) (Conventional insurance)
As of time of writing, 8 companies offer conventional insurance products under Perlindungan Tenang. You can apply for most of them through the link above.
Life insurance is highly recommended for sole breadwinners, especially with dependents including homemaker spouse, young children and/or elderly parents. Getting this product means that if anything happens to you, your family will receive some funds to help them with their living expenses, until they work out another source of income.
2 – Family takaful (aka halal life insurance) from MTA (Malaysian Takaful Association) (Takaful)
As of time of writing, 5 companies offer takaful products under Perlindungan Tenang.
Same function as Life insurance (see above), but in halal format.
3 – General insurance from PIAM (Persatuan Insurans Am Malaysia)
As of time of writing, 2 companies offer general insurance products under Perlindungan Tenang.
The first is Allianz's KampungKu, 'a very affordable insurance plan that provides protection for "kampung" wooden houses or household contents against fire, flood and windstorm risks.'
The second is MSIG's Mini Personal Accident, which offers 'basic personal accident coverage to provide financial assistance for disability or death caused by accidental means.' The lowest premium is RM13.78 per year, which is a mere RM1.15 per month.
#2 – SOCSO's Self-Employment Social Security Scheme
Those who are employed are already paying PERKESO/SOCSO (or you should be – check with your employers). This particular plan is for those who are self-employed, including those working in the gig economy. The benefits, which I think is *excellent*, is as follows:
This Scheme provides protection for self-employed insured persons against employment injuries including occupational diseases and accidents during work-related activities.

Self-employment injury means personal injury to self-employed insured person caused by an accident or an occupational disease arising out of and in the course of his or her self-employment activity including while travelling for the purpose of his or her self-employment activity.

Occupational disease is a disease caused by or arising from any occupation specified in the Fifth Schedule of the Employees' Social Security Act 1969. This scheme provides cash benefits to the insured persons and their dependants besides medical treatment, physical rehabilitation and vocational training.
Basically, you get:
Medical Benefit
Temporary Disablement Benefit
Permanent Disablement Benefit
Constant Attendance Allowance
Dependant's Benefit
Funeral Benefit
Education Benefit
Facilities for physical or vocational rehabilitation
All in one plan!
Contribution-wise, your plan depends on your monthly earning. The higher your insured monthly earning, the higher your contribution per month/year. There are four plans, ranging from RM13.10 to RM49.40 contribution per month:
| | | | |
| --- | --- | --- | --- |
| Plan | Insured Monthly Earning | Contribution Payment Per Month | Contribution Payment Per Year |
| 1 | RM1,050 | RM13.10 | RM157.20 |
| 2 | RM1,550 | RM19.40 | RM232.80 |
| 3 | RM2,950 | RM36.90 | RM442.80 |
| 4 | RM3,950 | RM49.40 | RM592.80 |
For more info on enrolling in this scheme, please refer to my article How to Apply for SOCSO / PERKESO Self-Employment Social Security Scheme
Additionally, if you're a woman, you can get your plan for 70% off under the SPS Prihatin Wanita programme. Unfortunately, you do have to go to the counter in person to register (I asked), but RM163 in savings is RM163 in savings. Please refer to the image below for more info, or reach out to PERKESO/SOCSO.
#3 – MDEC's eBerkat micro-insurance
MDEC's eBerkat micro-insurance options are curated for B40 and micro SMEs, and includes:
Cheap life insurance
Cheap medical insurance
Cheap travel insurance
Cheap personal accident insurance
Cheap car insurance
Cheap motorcycle insurance
Cheap device insurance,
and more. They even include temporary insurance for specific situations, like cleaning insurance!
As of writing time, three providers are listed in the page. Click on each one to find out what they offer:
VSure, 'your on-demand lifestyle insurance'
PolicyStreet, which compiles the best insurance deals (as claimed by them), with a Price Match Guarantee.
And Senang, an 'on-demand subscription based insurance' platform
#4 – Online Critical Illness Protection
So far, options under #1-3 gives you a wide variety of insurance options. If you mix-and-match the products, you're covered for almost everything, even if the coverage is small.
Almost. Except one major one (unless I missed it (if so, tell me) or they are added at a later date).
Critical illness protection.
If you have some budget left over, you'd want to get critical illness protection. It is important because this the one that'll give you a lump sum of money when you get really sick and need money not just to heal but to pay for life's expenses. Ideally, you want it to be at least a few years' worth of living expenses. At a minimum.
CI is also very expensive. Normally critical illness protection start from RM100 per month or so, depending on the specifics.
It's not the perfect replacement, but you can get a cheap Critical Illness plan by subscribing to FWD Takaful Big 3 Critical Illness Protection Plan. The idea if you're only covered for 3 critical illnesses out of the usual 36/40 critical illnesses, but those 3 make up 85% of critical illness claims.
Prices depend on gender, age and smoking status. I'm a 33 year-old non-smoker and my quote for RM100k sum assured, including the additional (optional) coverage is just RM27.68 per month. CHEAP.
The downside is, of course, I'm not covered for the other illnesses. But seeing the odds.. and considering limitation of budget.. it's not a bad decision to make.
Are there any other cheap insurance in Malaysia that I missed?
What other cheap insurance in Malaysia options deserve to be in this list? What other tips to you know to balance cost and coverage? Would love to hear your tips and advice – share them in the comments section below!