How I rent a master bedroom in Kuala Lumpur for RM150 a month (not including bills)
This is where I currently live in KL. EDIT: This is an old post. I've since moved out.
(image credit: iproperty.com)
Bistari Condominium. It's a really nice place.
I can truthfully say that I can't afford to buy this place and I feel that I'm living above my means. It's absolutely prime location: next to LRT station, walking distance to monorail and KTM. Walking distance to PWTC, Sunway Putra Mall and medical centres.
The condominium facilities include Swimming Pool, Sauna, Foot Reflexology, Tennis Court, Mini Gym, 24-hour Security, and tennis court, while the apartment came fully furnished with dining table, sofa etc, full kitchen, washing machine, and AC.
And yes, I pay only RM150 per month for the master bedroom, with attached toilet. Yes, that is considered a super cheap rent in KL.
How did I do it?
Firstly, the inspiration came from Alan Corey, the author of the book 'A Million Dollars by 30: How to Overcome a Crap Job, Stingy Parents, and a Useless Degree to become a Millionaire before (or after) turning Thirty.' It looks like this: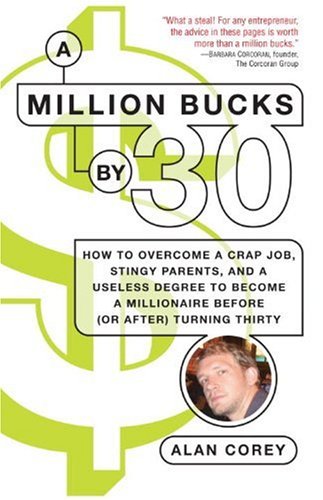 Alan's (Mr Corey?) aim is to live as frugally as possible in one of the most expensive places to live in the world (New York), and he use multiple tactics to increase his net worth to that big number – ONE MILLION before he turns 30.
Ok, so maybe some of his methods are a bit, uh, unconventional (for example, he lived in a dodgy part of town, and I mean here so dodgy that NONE OF HIS FRIENDS WOULD VISIT HIM), and he did get some unbelievable luck when choosing his first properties.
But I loved the tips on cutting back and being realistic about wants and needs. I loved his writing style, which appealed to people like me (most investment-related books out there is more suited for middle-agers, no?) Alan Corey has this wonderful college-boy-making-it-in-real-world feel, and you smell his enthusiasm through his words. He wants what he wants but without the price tag, so that makes for some creative beat-the-system awesomeness.
And I love being creative in beating the system.
Alan wrote about a tactic which I eventually used: to rent out a whole place and sublets it so that effectively, you live there rent-free (or close to rent-free).
Alan was more extreme than me – he practically lived in the office bit of his rented house so he could sublet the rest. I wanted the attached toilet, so I took the master bedroom. This left the middle and small room free.
I'm not comfortable telling you guys how much I got the place for, but suffice to say that Whole Apartment Rental minus Middle Room Rental minus Small Room Rental equals RM150.
Realistically, with bills and yearly agent's fee and house upkeep and maintenance, I pay between RM600-RM1000 a month. The bills usually come up to RM350-450, and that includes internet. This is still cheaper than normal master bedroom rental. Sometimes I pay more if there's expensive repairs, but only because I took it upon myself to try and provide a comfortable space to my tenants.
I buy things that are needed (like dish wash and mops and clothes rack etc) and fix/replace broken things. I advertise for tenants and absorb months when the rooms were empty. So its a win-win for everyone involved.
I admit it crossed my mind to take the small room so I could sublet the rest so I could turn a profit (like Alan did), but alas, attached toilet. I kenot. Having my own toilet is a luxury I couldn't give up.
So yeah, I would highly recommend his book. I found it in MPH last time, you can perhaps find it there still. Just don't follow his advice to eat instant noodles for breakfast, lunch AND dinner, okay? As always, take all advice (even mine) with a pinch of salt.