7 BEST Articles to Read Before You Jump into Stocks Investing in Malaysia
In case you didn't know, Bursa Malaysia is having a moment right now. It kept smashing records.
As of the time of writing, it broke the trading record high of 27.8 billion shares in volume worth RM7.8bil on 11 Aug 2020, AFTER breaking the trading record high of 26.65 billion shares worth RM9.05bil on 7 August 2020, AFTER breaking the trading record high of 15.62 billion shares worth RM10.45bil on 4 August 2020 (and it broke records the day before that, too).
And investors went crazy. Like moths to a flame, the (price) action attracted a lot of attention. This phenomenon isn't unique to stocks; the same thing happens to other commodities, too – you've seen the long lines at gold jewellery stores when gold price broke RM300/gram.
(P/s – Never think you're immune to FOMO, best to stay humble. Having an ego and thinking you're more rational than the crowd could will be your downfall.)
So… you want to start exploring stock investing in Malaysia, but don't know where to start. Here are 7 articles, to read *in order* that will help you in your stocks investing journey.
This evergreen article covers the basics, must-know information about stocks investing in Malaysia. It covers:
What is Bursa Malaysia
What is CDS account and why you need one
Which brokers are available (and which one to use)
How much to start with if you want to start investing in Bursa Malaysia
Similar to Article #1, but gives you a slightly different perspective and other information, such as types of shares traded on Bursa Malaysia. I like that it shows you how buy and sell order interface looks like (in this case, the screenshot is from Rakuten platform).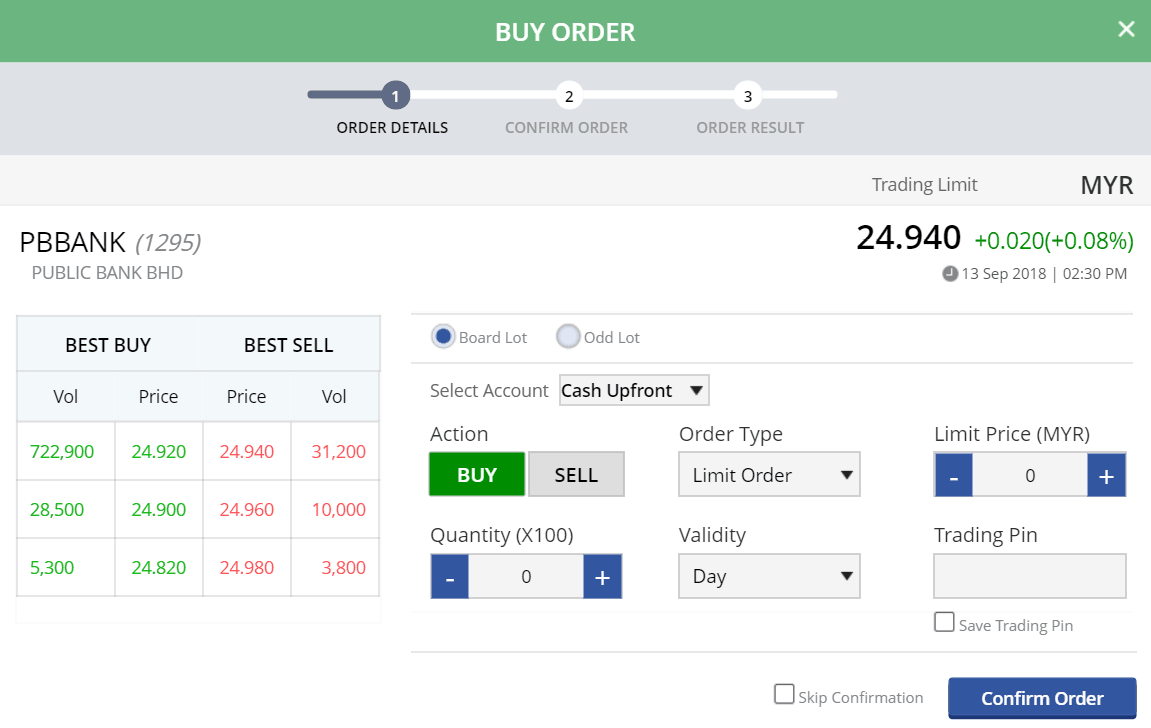 This article is a must-read for Muslims as it includes information about Syariah-compliant stocks, which make up only a fraction of all public-listed stocks in Bursa Malaysia. If it matters to you, of course.
Note: Syariah-compliant stocks might also be attractive to those who like SRI investing, or socially-responsible investing. They don't touch gambling or liquor.
Another overview of stocks investing in Malaysia article. I like how systematically Marcus laid out important things you should know before you start investing in the stock market.
Now we get to the fun part – how people actually invest in the stock market. The styles they use. Out of all the articles, I like Nicole's the most.
In her words,
Here I will share my own workflow, the actual step by step process of what tabs and windows I open when I'm doing research, trading, and also monitoring my portfolio
She even shows you a snapshot of the apps she uses exclusively for stocks investing.
(my article, sponsored by Bursa Malaysia)
Another way to peek into how people do stock investing is by following – for lack of better word – stocks influencers, (self-proclaimed) stocks experts.
Information is of course valuable and investment in knowledge is a good idea, but if you're still 'trying it out', a free way to learn from *actual stocks investors who actually trade for a living in financial companies in Malaysia* is through Bursa Malaysia's MLT Platform. No need to shell for that four, five-figure stock investing 'course'.
You can see the trading styles of experts in fundamental analysis. Experts in technical analysis. Experts in specific industries (ie Oil & Gas sector). They were all hand-picked by Bursa Malaysia, so don't have to worry about legitimacy.
The experts also can give you ideas on which stocks to buy and when, because they enter trades *with real money*. I see them as kind of your personal real-time stock picker.
(also my article)
And finally, when you decide you want to be a stocks investor, learning how to read financial statements is part of the journey. After all, you can follow tips and advice, but not doing the legwork and reading the financials behind the company you're buying is still plain betting.
Conclusion
In no way I am claiming that just these 7 articles are enough reading material – they're just a starting point, but they are damn good starting points. Again, read them in the order – there's a reason why I started you off with foundation (theory) before moving to practical.
To go deeper, you can explore more articles on each website. Lots of embedded links in there.
Alright, have fun kiddos. If you know of other amazing stocks investing in Malaysia article, do share with us in the comments section!