Under-RM2000 Travel: 6D5N Budget Bali Trip
Bali, for me, is one of those places that was easy to postpone a trip to, because it's so 'near' to Malaysia and I could technically go there 'anytime'. It's only recently that I finally got my ass there.
Confessions of a first-time visitor to Bali: I *did not* know it was this big of an island:
*Not pictured: Nusa Penida, a smaller island located east of Zone 1 below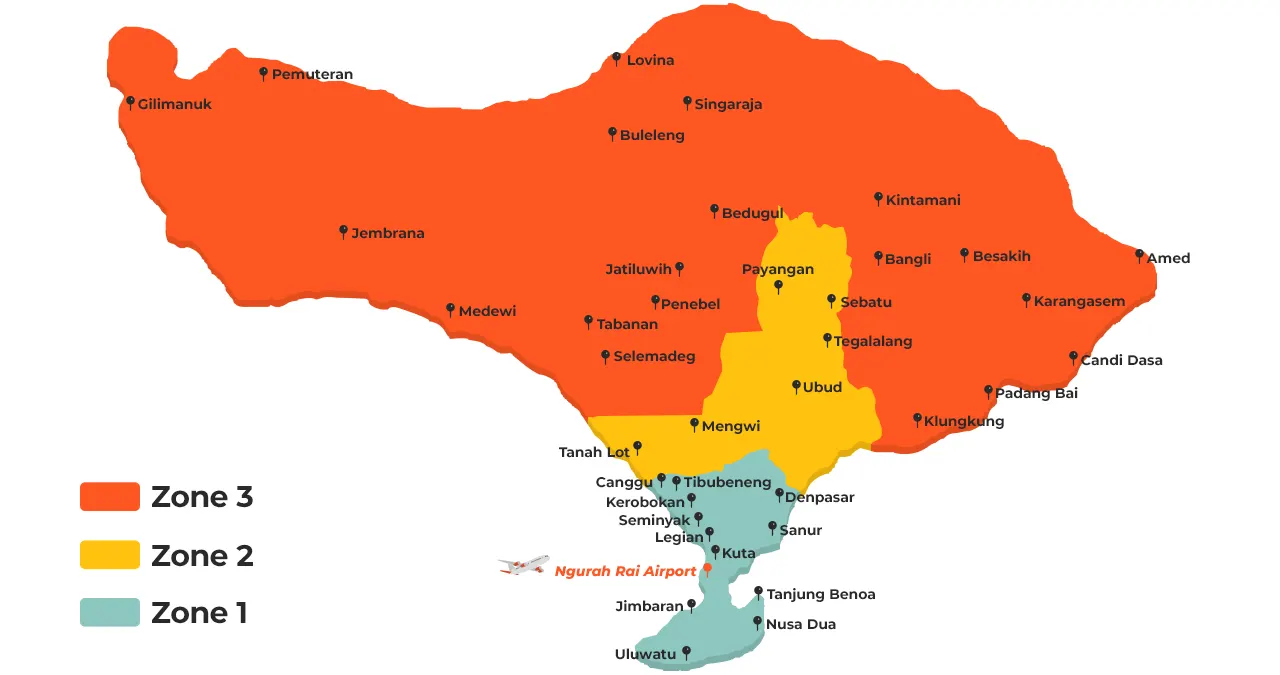 So… all this while, when y'all say you went to Bali, you really meant you went to one (or a few) of those places right? Because there's no way you could cover them all.
I wish I could explore more areas but I only had 6D5N to play around with – well 5D5N would be more accurate, excluding airport travel times – so I decided on 3 nights in Kuta + 2 nights in Ubud. Kuta allowed me to explore Uluwatu, Seminyak ad Legian, while Ubud allowed me to explore Tegalalang.
Many of you recommended me to stay at Seminyak, Tanah Lot, Sanur and Nusa Penida. Next time around I'll try to stay at those locations 🙂
Budget Bali Trip Overview
I went to Bali in December 2019. The exchange rate was around 100,000 rupiah = RM29~. In this article, let's just round it up to RM30 to make the calculations easier.
Here are the major costs:
Flights. I bought the flight tickets way in advance, around September 2019. Flights to anywhere in December are expensive and I knew I have to get this one sorted out first. In other months, I could've gotten return Kuala Lumpur-Denpasar tickets for ~RM300 or even less, but since it was December, my AirAsia tickets cost RM593.60 without check-in luggage or meals.
Accommodation. Since I booked my flights super early, I had a lot of choices when it comes to accommodation. Basically, I considered every hotel/hostel which (1) cost under RM150 per night, (2) had amazing reviews, and (3) are located at central Kuta and Ubud.
Transportation. Staying in town meant I could walk around, and spend less on taxis. More on this and airport transportation below.
Activities. I also allocated some money for trips to local attractions and activities, most of which pre-booked in advance. More on this below.
Food. I budgeted a generous (or so I thought ) RM20 per meal. It was enough, but barely – you can't escape tourist pricing 100% of the time.  I'd allocate RM30 per meal per person the next time around just to be safe.
Savings tip 1: If you want cheaper flights, avoid December in general.
Savings tip 2: I booked my accommodation via Booking.com via Shopback (note: referral link). Coincidentally Shopback was doing some travel promo to so I got upsized cashback too. After I decided which hotels I wanted, I compared the same place on a few booking sites – Booking.com, Agoda, Expedia etc – and picked the one with the lowest price and/or higher cashback.
Day 1 – Arrival to Bali
I arrived at Denpasar airport around 9.30pm, so it was quite late. After I picked up the travel SIM cards (Savings tip 3) and withdrew some rupiah from the ATM (Savings tip 4), we took a Grab to the hostel in Kuta (Savings tip 5). Checked in, went out for late dinner, hit the convenience store for some treats and went to bed by midnight.
Savings tip 3: I got my travel SIM card from Klook (note: referral link; get RM13.30 after you complete an activity). The price was good and most importantly, the staff helped to set it up on the spot. Get your internet sorted out early – especially if you need it to use Grab (see Savings tip 5)
Savings tip 4: For once, I cannot promote the use of BigPay card for ATM withdrawals in Bali. Two reasons:
Maybe it was just my luck, but 4 out of 5 ATM withdrawal transactions I did at the airport were unsuccessful. That would have been fine, but

they considered the transaction valid and deducted the money from my account and now I have to go through the trouble to file a dispute form to claim it back

. Imagine, RM950, stuck for up to 60 days, just like that.
The two ATMs which I did manage to withdraw money from only allows up to 1.5 million rupiah withdrawal per transaction. That's only RM450. I *could* make multiple transactions, sure, but remember each transaction comes with RM10 ATM withdrawal fee. One of the ATMs tacked on another 20,000 rupiah fee (~RM6) ON TOP of that charge.
Therefore, if you plan on withdrawing more than RM450, I would suggest exchanging your RM into rupiah at a money exchanger instead, before you go on the trip. That would be the cheaper option.
However, it's still a good idea to have some money in our BigPay card because many places like restaurants and hotels do accept card payments, and BigPay's exchange rate is still better than credit cards. Get extra RM10 credit if you use my BigPay referral code INLALP7ZLE. To download the app, find BigPay in PlayStore (Android) or Appstore (iOS)
Savings tip 5:  Use Grab in Bali. The local taxi companies hate it, but they also wanted to charge me 300,000 rupiah (RM90!!) for a 10-minute car ride from the airport to my hostel in Kuta. The lowest quote I got from the official taxi stand was still 150,000 rupiah (RM45). Compare that to just 80,000 rupiah (~RM24) for the same car ride via Grab. You don't even have to re-install the app, its the exact same one!
Savings tip 6: You can even book motorcycle rides via Grab app in Bali. Do that if you're a solo travellers, or even if you're an adventurous group. So much cheaper than Grab car rides.
Day 2 – Exploring Kuta 1
I had a blast spending the morning half of Day 2 just walking around, leisurely exploring Kuta town on foot. We hung out at beautiful Pantai Jerman, then the weather got SCORCHING HOT so we sought refuge at the coffee shop with the coldest aircon setting.
At 2pm, our supir/driver/guide picked us up for our first tour activity from Klook – Uluwatu Temple Sunset and Kecak Fire Dance, which oddly came with a 1.5-hour stop at Padang-Padang Beach, but was pretty and worth visiting so everything's cool. The views at Uluwatu Temple was beautiful and the dance show was amazing, I really enjoyed my time there.
Savings tip 7: Unlike Luang Prabang, where you should totally skip the overpriced packages on Klook, in Bali I actually would recommend buying your activities from there. The simple reason is because the guides care about getting good reviews (or at least, avoiding negative reviews) and will truly do their best to give you a good experience.
My guides were great. They have umbrellas in case it rained, they helped me take pictures, they shared lots of information. The price is justifiable for that level of service and beats haggling with independent taxi drivers from the streets.
Day 3 – Exploring Kuta 2
I dedicated Day 3 as free-and-easy Kuta exploration day 🙂 The main streets are easy enough to navigate and it's a very tourist-friendly town.
There are lots of things to see, touch, buy and eat. Lots of people will be jostling you to hire their taxi service, or buy their ice cream, or get a massage, or buy souvenirs. It got a bit overwhelming sometimes. I understand why people stay at resorts with private beaches, just to get some peace and quiet.
On the day, I walked from Line 3 Stop 1 until Line 3 Stop 5, then walked over to Line 4 Stop 9, then took the Kura Kura bus (Savings tip 8) to explore other areas, including Seminyak and Legian Beach.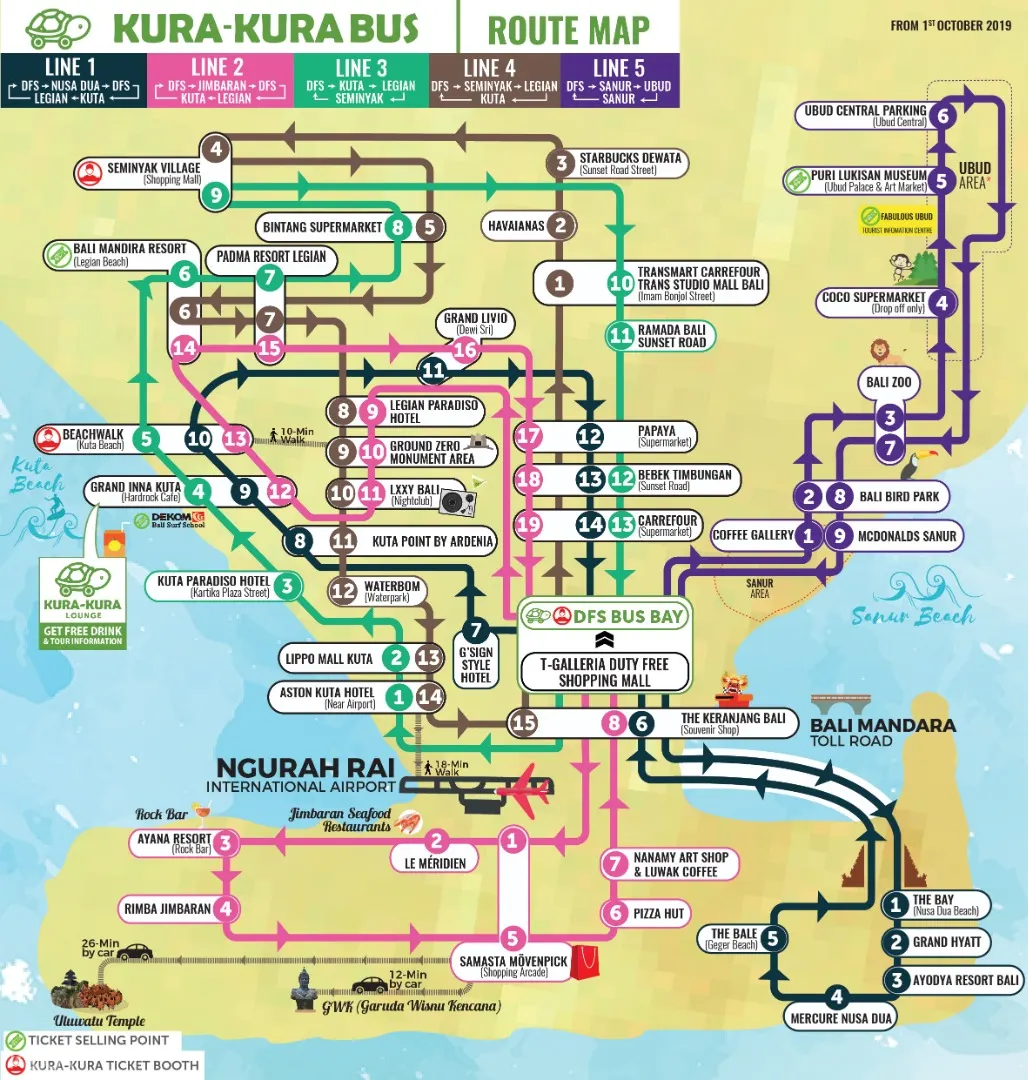 Savings tip 8: I have mixed feelings about the Kura-Kura bus. On one hand, it gives you a good overview of must-visit tourist attractions in Bali, and the flexibility to get there if you decide to. On another, planning your activities around its schedule was a bummer. I missed a bus and didn't want to wait an hour for the next one so I took a Grab back to the hotel.
I'd suggest buying a Day pass if you enjoy being on a van that just tours around busy streets, so you can sight-see in comfort, without people trying to sell you stuff. But if that's not important… then skip it and just Grab to any location you want. If you want to buy Kura Kura Bus day passes, they are sold for cheaper on the Klook platform.
Day 4 – Going to Ubud
I had planned to take the Kura Kura bus directly to Ubud, but my travelling partner loved the Kecak Fire Dance so much (it was REALLY good!) that we decided to watch the Sahadewa Barong Dance too. We bought the tickets on Klook.
Upon arrival to Ubud, we explored Ubud town and also entered the Ubud Monkey Reserve Forest (80k rupiah entry fee, ~RM24). Didn't plan to but glad I did – it was a visually beautiful location. Plus you can see baby monkeys!
Savings tip 9: The Kura Kura bus pass is one of the cheapest (for tourists at least) options for Kuta-Ubud travel, especially for solo travellers. At time of writing, 1-Day pass is RM26.69 and a 3-day pass is RM40 person. A direct Kuta-Ubud Grab car ride would cost roughly 200,000 rupiah (~RM60), depending on location and time of day. You do have to book your seat in advance just in case it fills up.
Again, you can buy the Day Pass from Klook platform. Remember to activate Shopback so you get additional cashback!
Day 5 – Waterfall tour
Another tour booked on Klook – a whole-day Bali Hidden Waterfalls Trip: Best of Ubud Waterfalls! Our guide picked us up at 8.30am and we made it to 2 absolutely beautiful waterfalls and a trip to the famous Tegalalang Rice Terraces.
Worth noting: skip this activity if you're not physically active. We actually decided to skip the last waterfall and head back to the hotel earlier because all the locations had so many steep stairs and it was really tiring. Our driver said that some tourists do cut their trips short – as early as one hour in – upon discovering the level of physical exertion needed. I don't want you to waste money and time.
After that we spent the remaining evening walking around Ubud town, trying out Luwak coffee (80,000 rupiah per cup or ~RM24) at a place which featured tame civet cats. It was quite the experience sipping coffee knowing it came from their poop. They were super cute though.
(They didn't seem drugged, which was nice)
Savings tip 10: If you're on a budget, make sure to tell your driver your lunch budget because they might take you to a very pricey – but admittedly nice – restaurant for lunch. I requested for a nasi campur place, hoping for below-50,000 rupiah per meal (~RM15), and he took us to this place where the meal cost 120,000 rupiah (~RM36) before taxes.
In the end we ended up at a roadside Nasi Padang place which overcharged us simply because we were tourists. Paid 70,000 (~RM21) rupiah for rice+chicken+vege+tempe combo. Had to grit my teeth to that one. At least it was delicious.
Also, while technically you're not obligated to pay for his lunch, you might feel pressured to. I did because he kinda hovered around the whole time.
Day 6 – Departure
Nothing much for Day 6. Had a leisurely breakfast at the hotel, then a driver (also booked from Klook – cheaper than quoted by the hotel) drove us to the airport.
Savings tip 11: Food at Denpasar airport is VERY EXPENSIVE so if you're on a budget, bring some snacks or eat your meals beforehand.
Total cost for my budget Bali trip
In total, I spent RM1815.10 on my 6D5N budget Bali trip, all-in. Could it be cheaper? Sure, if you got cheaper flight tickets, but other than that my budget was quite lean as it is. I also stayed at cheap but private places (not the fancy resorts/villas), didn't buy any souvenirs and didn't visit the far-away places.
(I also forgot to buy travel insurance whoops don't be like me kids)
Item
Budgeted 
Actual 
Flights
RM600
RM593.60
Pre-booked on Klook

SIM card
Airport transfer (DPS)
Uluwatu temple
Waterfall tour
Kura Kura 3-Day bus pass

RM400
RM352
Hotels in Kuta + Ubud
RM375

(RM75 x 5 nights, per person)

RM374.57
Food, Drinks & Transportation
1,750,000 rupiah / RM500

(RM20 per meal x 20 meals + RM100)

RM369.28
Airport transfers (MY)
RM65
RM65
Entertainment/Entrance fees/Other fees etc
875,000 rupiah / RM250

(RM50 per day x 5 days)

RM60.65
TOTAL
RM2190
RM1815.10
Special thanks to everyone who shared your savings tips, including your itineraries, activity and location recommendations and others. Much appreciated, love you <3
Have anyone been to Bali? Any money-saving advice to share?

I'm flying in December, where flight prices are ridiculous (but it's the only time I can go!) So I'm keen to save money in other expenses!

— Suraya Zainudin (@surayaror) September 30, 2019
Anyone else been to Bali before? Where did you stay and how much did it cost? Let me know your savings tips in the comments section below.
Related: Previous travel – Luang Prabang, Laos, Hong Kong, Maldives, Langkawi, Krabi, Osaka+Kyoto, and Saigon
More pics/vids from the trip: